November 2nd, 2013.  We drove up from the city to Hudson Valley in search of fine cider & food, with a few NY Times articles and a loosely-plotted route to our airbnb crash pad. Technically, apple season had already ended. The fall colors were starting to fade. This was the last big weekend the city crowds would be cruising the cider trail.
Here are the highlights from the trip:
Stop 1 was Applewood Winery, makers of Naked Flock hard cider. They were holding a cider tasting event with food pairings. Naked Flock is a pretty decent cider, but I noticed that even the "dry" ciders I tried weren't quite dry enough for my tastes – everything tended toward the sweeter side.
The sample sizes were pretty small. Tastings can be a tease sometimes, but I guess it was good to pace myself. They had the requisite guy playing acoustic guitar outside and a healthy crowd gathered at the tables. I tried to order some cider donuts from the kitchen (supposedly the best in the valley), but there were none available because "apple season is over."  I think if you're holding a cider event, there ought to be some damn cider donuts available, but that's just me.
The food pairings weren't really substantial, I was still hungry after trying the 5 ciders w/ 5 bites (there was a savory bread pudding for one pairing and some potato soup, from what I remember. Nothing special). They did have pizza at the kitchen, but it didn't look that great and since the area is known as something of a food destination, we decided to wait for more attractive options. We decided to move on to Warwick Valley (about a 20-minute drive away).
Stop 2: Warwick Valley Winery & Distillery, makers of Doc's Hard Cider.  Doc's is the big player in the New York craft hard cider scene. You can find Doc's on tap at bars and in the bodega fridge more easily than any other craft brand in the state. They call themselves a winery, but cider is what they do best and what they're best known for.
As we drove through the surrounding neighborhood, we discovered that the locals don't quite appreciate us carpetbaggers invading their territory. We spotted some anti-tourist signs that residents had posted on their property. "What happened to Warwick's rural character?" one asked. "I don't come to your neighborhood and drive drunk" read another.
We pulled into the winery and were directed to park on the lawn. The place was packed with people. The scene here totally dwarfed the Applewood event from earlier – and this was just a normal weekend for Doc's, no special events or tastings that day.
Outdoors, there was a patio with tables filled with people, a lawn with picnicking families on blankets and lawn chairs, a bocce ball court, and a grill tent serving food. I ordered a cheeseburger from the grill and a pint of cider and we checked out the grounds. Of course, there was another dude with an acoustic guitar performing ("Cherry" by Neil Diamond). It began raining briefly, sending everyone running inside to the tasting room/shop. There was a bakery inside serving pizza that looked miles ahead of the pizza they were serving at Applewood.
I ordered a Doc's made with Hops. It was great. I can't find the "Dry Hopped" Doc's in the store easily (but the goddamn raspberry variety is always available), it would be great if they made more of it.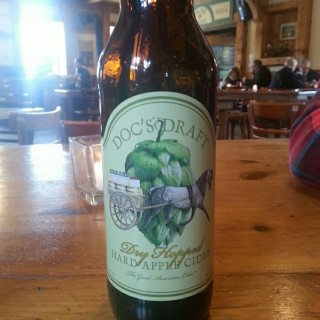 Although we were having a good time, we needed to keep moving to the next stop before nightfall.
Stop 3: We drove around 50 minutes to Peekskill Brewery, just in time to catch the sunset. We had seen 'Drinking Buddies' a few weeks back and we felt like we were living that movie. I started having an minor epiphany while Explosions in the Sky played in the background and there was lots of naturalistic, overlapping dialogue. Or something.
We skipped the brewery tour (I've already seen metal tanks before) and entered the downstairs bar. A young crowd pounded beers as loud music played. I was still hungry and the host directed us upstairs to the restaurant. We ate at the bar, taking in a nice view of the river. I had a beer (forget which kind) and we ordered some bar snacks: mussels w/ broth, buffalo wings, and the soup of the day (might have been potato w/ leek. Or Bok Choi. Don't remember).
We finished eating/drinking and drove another 30 minutes to spend the evening in Beacon.
Stop 4: Max's on Main. A local's bar with plenty of character and a lively crowd. Someone ordered potato skins and we had some beers/ciders and laughed at the ultra-corny "ain't broads the worst?" novelty posters hanging in the bathrooms. College football played on the TVs.
We got out of there as yet another acoustic guitarist was setting up to play.
Stop 5: Nearby was Dogwood Bar, a larger, newer bar home to a slightly hipper crowd. I ordered a Naked Flock cider since they had it on tap, it tasted better than I remembered from earlier that afternoon.
They apparently host live music here, too. But there were no bands that night, thankfully. After a drink or two we finally told the GPS to guide us to our airbnb.
Stop 6: airbnb in Milton, NY. After all that cider and good food, my head grew heavy and my sight grew dim. I had to stop for the night. The house ended up being way too big for our group but was still ideally located. And there were board games and a complete set of 'Hardy Boys' books.
November 3rd, 2013. A freezing-cold morning on the river. I tried to make breakfast on the large industrial-size stove. After lighting the burner, I noticed smoke rising from behind the stove. Tried to douse it with water to no avail. I grabbed the fire extinguisher and sprayed it behind the stove. The smoke kept billowing out from behind the stove, but it was too large and heavy to move it. It was time to call the fire dept. Within minutes we heard the sirens and they arrived, called for backup, turned off the gas line, moved the stove, and saved the day. The source of the smoke was a smoldering grease-soaked rag caught on a pipe behind the stove. The firemen happened to be old high school buddies of the airbnb host. As the house aired out, the host's neighbor stopped by to see what the commotion was. He had us over his place for coffee. It was nice of him, and the airbnb host called us and apologized. All good.
Stop 7: Walkway Over the Hudson. We walked across it (or nearly across it, then turned back the way we came). It was cold and windy. I noticed some nearby houses had put up fencing/netting around their property for privacy (since the walkway offered a pretty intrusive view into their windows), with more anti-tourist signs complaining that the local government hadn't compensated them for the cost of shielding their homes from prying eyes. Then we went for lunch.
Stop 8: Gunk Haus. An awesomely-named German restaurant in Highland that came recommended by the Times article. They had a bakery attached to the restaurant with "panda monkey bread," a knotty cinnamon and sugar croissant-like thing. Ordered a roast pork loin sandwich (on pretzel roll) for lunch and some seared spaetzel with cheese. They had Doc's on tap.
Stop 9: Tuthilltown Spirits. According to their website, they're "New York's first whiskey distillery since prohibition." We skipped the tour and did a tasting. They had bitters, seltzer, syrups, etc. so it was nice to get to mix whatever spirit you were trying with some additional flavor (I'm not much of a purist myself). There was some saffron syrup that we all enjoyed and picked up a bottle.
We ended up buying a bottle of their Half Moon Orchard Gin, "a new base of near neutral spirit from both Wheat and the Hudson Valley's ubiquitous Apples." It wasn't very apple-y, but the stuff smelled/tasted amazing. My new (and first) favorite gin.
Stop 10: Back home with plenty of time for the old weekend wind-down routine (ala Elaine Bennes).
Feel free to steal this itinerary (have a designated driver handy). There were other cider houses we wanted to hit, but for only one and a half days at a hardly-leisurely pace, we did pretty well.
We'll be back next Autumn with another road trip report (UPDATE: you can read about that trip here).